Cowboys Walking, Shackelford County, Texas Laura Wilson Photography
The image of the Western cowboy has long been a part of the American story. The book, Cowboy Ethics by James P. Owen, captures the principles the author has long admired that were an essential part of the American history of the West. Our name Cowboy Oil & Gas is our tribute to the special men who live by a code created by lives spent with quiet courage and honor.
We present these cowboy ethics as principles we strive to live by.

Our Take
Straight talk and open communications are the cornerstones of our company.
Our word is our most important asset. We treat our employees, consultants, and investors with ethical business practices and we expect the same from them.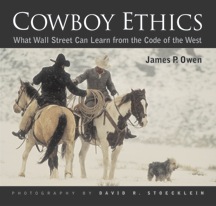 From James P. Owen, Cowboy Ethics: What Wall Street Can Learn from the Code of the West.
Reprinted by permission. www.cowboyethics.org